Global soccer legend Eric Cantona launches travel experiences in partnership with startup DHARMA
Eric Cantona, the sporting legend and former captain of Manchester United unveiled today that he is launching a travel brand in collaboration with DHARMA, the disruptive travel startup that has previously launched travel brands for iconic people and brands such as Equinox and Culture Trip.
Eric Cantona commented: "Our idea was to create the most passionate football trips on earth, with charisma and soul. Everything today is optimized for price - we wanted to optimize for passion." 
Looking FC (www.lookingfc.com), named after the Looking For documentary series produced by Cantona and his brothers (Canto Bros Productions), features 4-day trips uniquely crafted by Cantona himself that take guests on an immersive sporting pilgrimage to explore global football cities through the lens of the world's most vibrant clubs and their loyal fans. Trips culminate with a Game Day experience seated in the passion sections of iconic stadiums for big League and Champions League matches. In addition to the big game, trips feature unique experiences such as fan chant workshops with superfans, sports-themed graffiti walking tours with local historians, and tactics briefings with leading journalists. 
Manchester (United), Buenos Aires (Boca), Liverpool (Liverpool), Milan (Inter), Madrid (Real Madrid), Barcelona (Barca), Paris (PSG), Lisbon (Sporting), and Casablanca (Raja) are the nine trips that will be featured this season, with thrilling fixtures on the calendar including a Liverpool v Manchester United at Anfield, a Real Madrid v FC Barcelona El Clásico at Bernabeu, and a PSG v Marseille Le Classique at the Parc des Princes. Each signature itinerary is designed for groups but is also bookable privately for friends and families. Prices start from 1,290 Euros per person based on double occupancy and include all accommodations, experiences, most meals, guides, and match tickets.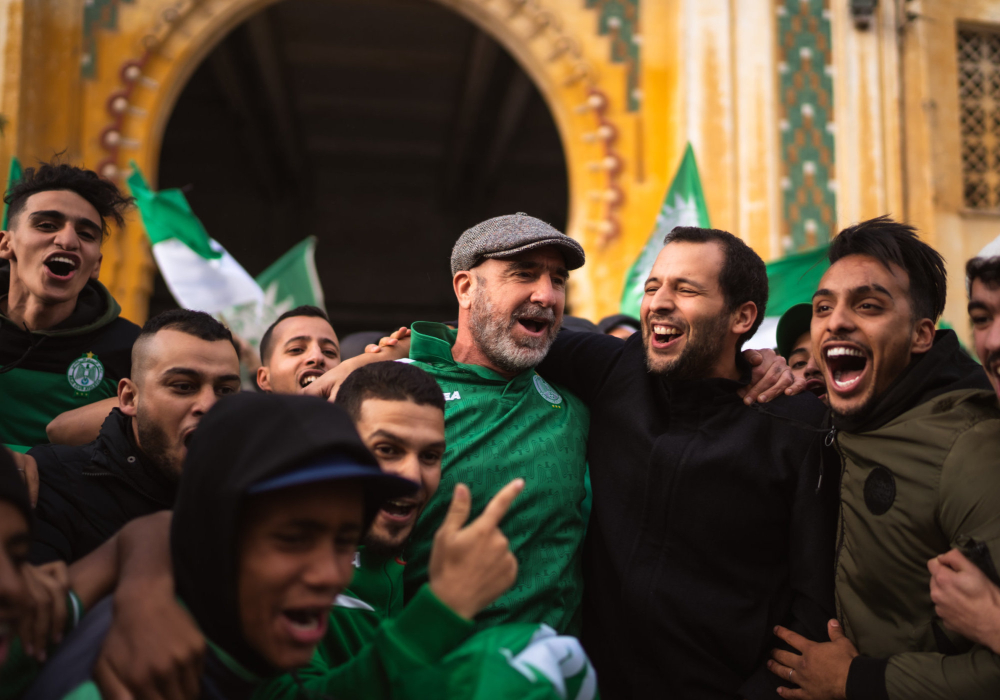 In line with Cantona's persona, Looking FC also takes a people, planet, profit approach. It has announced a first-of-its-kind partnership with Common Goal, donating 1% of its revenue to supporting the UN's Sustainable Development Goals Initiative. Each trip is built with an emphasis on supporting local businesses and all trips are carbon offset through Thrust Carbon.
This game-changing new travel brand is the latest in branded travel experiences pioneered by DHARMA(www.seekdharma.com). Launched in 2018 by travel pioneers Nisma Benani, Charaf El Mansouri, and Leah Howe, DHARMA has worked with Culture Trip, the largest travel media publication in the world, Bitso, a cryptocurrency unicorn, Pernod Ricard, the second largest wine and spirits maker globally, Equinox, the world's leading luxury fitness brand, and Light Watkins, the meditation instructor for the likes of Prince Harry and Meghan Markle, among its many clients.
As the world's first travel-brand-as-a-service, DHARMA empowers iconic lifestyle brands and global influencers to seamlessly create and launch their own travel brands for their own highly engaged audiences. ABTA bonded, and with backgrounds in some of the most exciting tech and travel companies on earth such as Uber, Airbnb, Equinox, Butterfield & Robinson, and G Adventures, DHARMA is entering an exciting phase of growth as they continue to forge relationships with powerful voices of influence in top social markets and further their mission to connect the world through the power of shared experience. 
Leah Howe, CXO and co-founder at DHARMA, and former Managing Director and inspiration behind Equinox's travel brand Equinox Explore comments: "DHARMA brings the passion economy to the travel space by applying the people-buy-people mantra that has been tried and tested for products to experiences. When you build an experience for a specific community it is hyper-personalized. Am I going on a fitness trip curated by my favorite wellness instructor, or a culinary trip curated by a star chef, or on a football trip designed by my idol? The future of travel is social." 
DHARMA's disruptive approach of bringing travel and the passion economy together has attracted leading institutional investors in the hospitality and social media spaces. These include Convivialite Ventures (San Francisco) - the CVC of Pernod Ricard, the second largest wine and spirits company in the world-, L& Ventures (Salzburg) - the investment arm of Loop, the global Marketing agency for Red Bull, Porsche, Audi - , Hub71 by Mubadala (Abu Dhabi) - the sovereign wealth fund of Abu Dhabi, and B&Y Ventures Partners (London/Beirut) - early backers of Ro, Thrive, and Thread. 
Charaf El Mansouri, CEO and co-founder at DHARMA noted: "Over the next decade social media will drive the most significant disruption in travel history. Eric Cantona represents the authenticity and soul that 3B+ football fans crave around the world. We believe the future of travel will be driven by passion, not geography. As people re-assign their identities to online communities, the need for IRL connection with like-minded people will only grow - that is the space DHARMA's travel-brand-as-a-service model is pioneering."